How has automatic programmer technology developed for garden irrigation (but also for balconies and terraces)? To find out all the latest developments in this industry, ranging from ever-increasing water and water resources to customization of easy-to-manage facilities with apps available for PCs, smartphones and tablets, GardenTV has asked companies to present their products Own proposals for the summer 2017.
CLABER
For the 2017 season, Claber presented a new electronic programmer: Aqua-Home 4-6-8. "The controller - explains the marketing office - is characterized by a sleek and compact design, and allows to automate with great flexibility the irrigation of a garden, running from 1 to 8 independent lines, thus meeting the needs of a single product Of small, medium and large gardens. Connects directly to the power outlet via the external transformer included in the package ".
How did the control unit evolve and what are the technological plus for better irrigation and less waste of water?
"Aqua-Home is characterized by a great novelty: Unlike commercially programmed programmers, the controller does not need a buffer battery to keep the settings in place in case of power shortages," says Claber marketing office.
Aqua-Home is equipped with a SuperCAP, a capacitor that accumulates power during normal use of the programmer, and comes in the help of the user while keeping the settings up to 2-3 days (well beyond normal normal power outages Which may occur and the performance of the common timing batteries used).
"For better irrigation management and less waste of water - continues the marketing office - the programmer provides some useful functions such as the Water Budget, which allows you to vary the programmed irrigation from 0% to 200% for each line, If the weather conditions change and you do not want to change the settings in memory, or Rain Stop to manually suspend irrigation in case of rain. Additionally, you can connect the programmer to the useful rain sensor, to stop the program automatically in case of bad weather and restore it once the sun returns. "
Aqua-Home is a versatile programmer who can handle irrigation of small gardens up to large sized gardens up to 2,000 sq.
How do I install it? Do you need a technician's support?
"Like all Claber products - explains the marketing office - installation is easy and tailor made for you. Aqua-Home can be installed on the wall, by means of screws and plugs, or inserted into the electrical outlet boxes. "
Aqua-Home can be connected to the wire-blasted Claber Rain Sensor (purchased separately): this will avoid useless waste of water, automatically irrigating only when it is actually needed.
How does programming work and what degree of customization does it have?
Explains the Claber Marketing Office: "Programming is simple and straightforward: a rotary knob to select the settings to turn off and 4 keys to change the values and view the different screens in each section. All with the help of a large LCD display, allowing easy reading of information. The irrigation time varies from 1 min to 4 h and 15 min for each line, with two irrigation cycles independent and up to 4 cycles per day. Irrigation can be set weekly, cyclic (up to 12 days) and alternate days. "
Aqua-Home can be purchased in all specialized gardening and DIY channels.
DEL TAGLIA (IRRIGAZIONE RICCINI)
It is looking at the future of irrigation that Del Taglia (Irrigation Riccini) presents among its novelties the line of Bluetooth programmers.
"The first purpose - says Arrigo Del Taglia, Irrigation Riccini division division Del Taglia - has been to simplify irrigation management by transferring the program directly to your smartphone or tablet, through which you can view, edit and transmit The desired program for the Bluetooth programmer connected to the solenoid valves. The maximum data transmission via Bluetooth from the handset or tablet to the controller is about 10-15 meters. "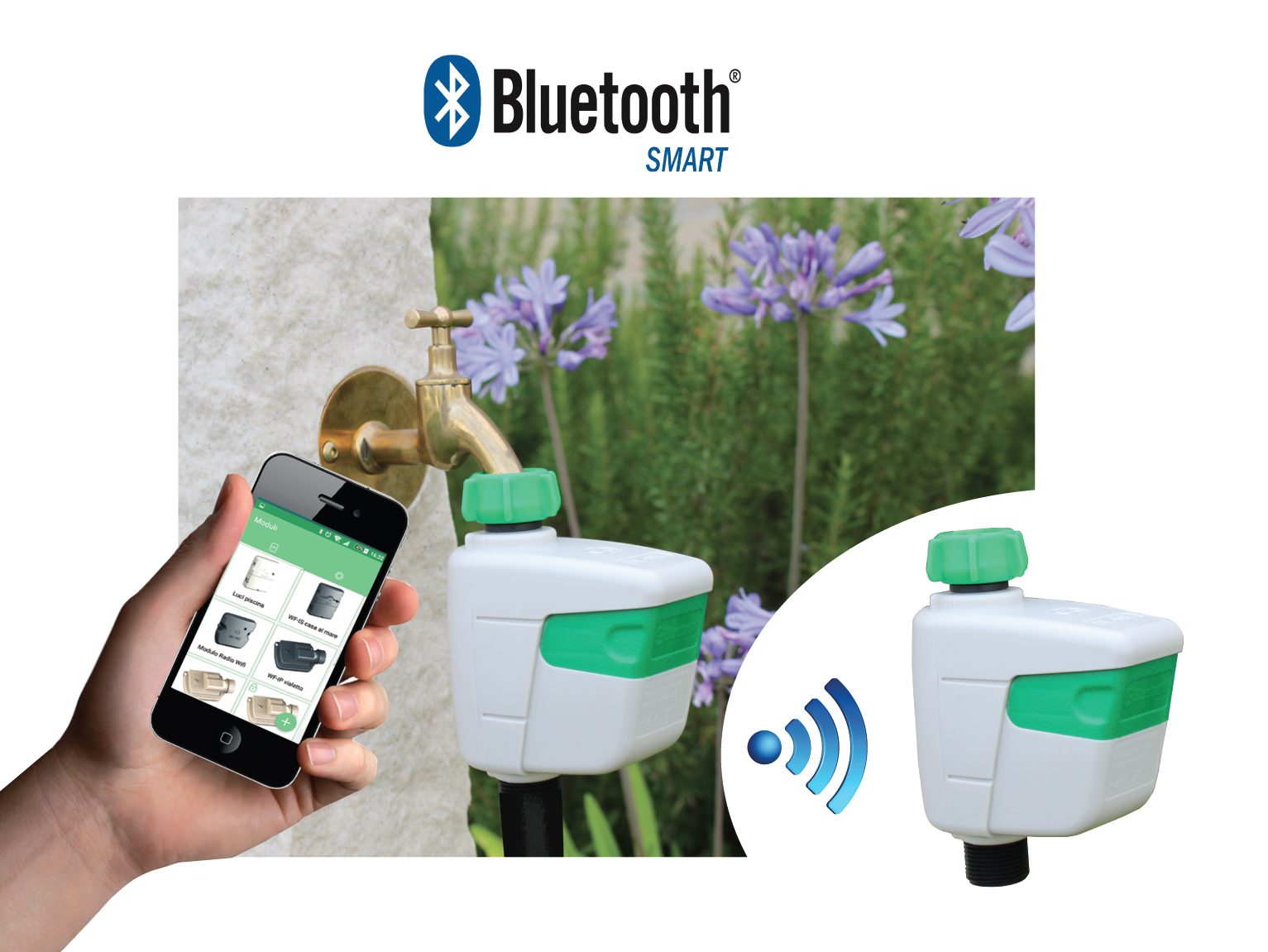 With only one mobile phone, you can manage an unlimited number of automatic irrigation devices.
The program is no longer visible in the small display of the programmer and can only be modified by its keyboard but is managed entirely by its own telephone or tablet that we know very well for the great use we make every day.
"One could say," adds Arrigo Del Taglia, "that with these Bluetooth devices the management of garden irrigation, flowerbeds, hedges, terraces, gardens, houses to the sea and mountain is in the palm of our hand."
Numerous reasons for the success of new programmers, as explained by the commercial director of Irrigation Riccini, Del Taglia division: "Despite the modern technology that distinguishes them cost less than the corresponding traditional programmers because they do not have keyboard and display. 9V models can also be programmed without opening the cockpit where they are normally placed and without having to extract and clean the control unit.
Lack of display and keyboard allows a great energy saving that guarantees a much longer battery life than other products on the market and above all it is not necessary to open the cockpit to check the battery status by allowing you to intervene only when needed. They are far more reliable than traditional programmers because they are without display and keyboard that are the two components that fail more frequently. Mobile or tablet programming does not suffer from low vision problems typical of traditional programmers often placed in lightly lit rooms or exposed to direct sunlight. "
How did the control unit evolve and what are the technological plus for better irrigation and less waste of water?
"The basic concept has changed - responds Arrigo Del Taglia - the control unit only serves to transmit its controls to the solenoid valves but the management of all the irrigation programs is carried out directly from their cell phone or tablet."
This is done by downloading the MySolem app (available for Apple and Android), and connecting via Bluetooth to our programmers.
"Not only - adds Del Taglia - Through the MySolem web platform, www.mysolem.com, you can also manage our Bluetooth programmers free of charge from any Windows or Apple-connected PC."
The system automatically updates the changes that are then retransmitted through the app to the Bluetooth programmer.
Each programmer can be run by the owner of the garden, but also by any installer or maintainer who will be able to test the programmers installed on their PC or their mobile phone from all their clients.
Bluetooth headsets are available in a variety of models that can control from 1 to 12 stations and thus allow you to irrigate from the terrace, to the small or large residential garden and also to public parks, sports facilities, farms, gardens and greenhouses
How do I install it? Do you need a technician's support?
"Installation is extremely simple - says Arrigo Del Taglia - and can also be done without the assistance of a technician. For example, Bluetooth BL-IP battery controllers do not need to be connected to the power line, but it's enough to plug in a 9V battery, which has a much longer life than the display and keyboard devices, and make simple electrical connections from the programmer To the solenoid valves that must be with 9V bistable solenoid.
The 24V models also have a transformer that can be connected to any 230V electrical outlet. Also for these, the electrical connections to the solenoid valves with 24V solenoids are extremely simple to realize. "
All Bluetooth controls, except the tap, can also be connected to a rain sensor.
How does programming work and what degree of customization does it have?
"Programming, extremely simple, intuitive and the same for all our Bluetooth programmers, is easily downloadable to your phone or tablet via a MySolem app," says Del Taglia.
Once the App is installed, all nearby Bluetooth programmers are recognized and displayed on the phone and tablet screen. By selecting the desired device, you can access the programming and customization operations.
"Without going too far into the details of the broad programming possibilities," he adds, "our Bluetooth devices have 3 independent programs with 8 departures for each program: you can choose for each program a personalized weekly watering or daily or even odd or periodic daily With a range of 1 to 31 days. The irrigation time for each station varies from one to 1 minute to 12 hours, and there is also the Water Budget function that allows to increase or decrease in percentage (from 0 to 200%) with one operation all irrigation times set ".
There is also a manual command function for both a station and an entire program.
Among the various customizations, the possibility of naming the programmer for various programs and stations for easy identification of the programmer or entering a password that defines who can access the changes.
Bluetooth line programmers can be purchased from pipe and pipe distributors, hydraulic products dealers, garden centers, hardware and installers of irrigation products.
HIDROSELF
Hidroself proposes several electronic programmers, depending on the type of green space to be irrigated and its dimensions.
"Electronic faucet programmers - explains Hidroself after sales service - are particularly suitable for automating irrigation systems for terraces, greenhouses and small gardens. Programming is very simple and of immediate understanding even for the less experienced user.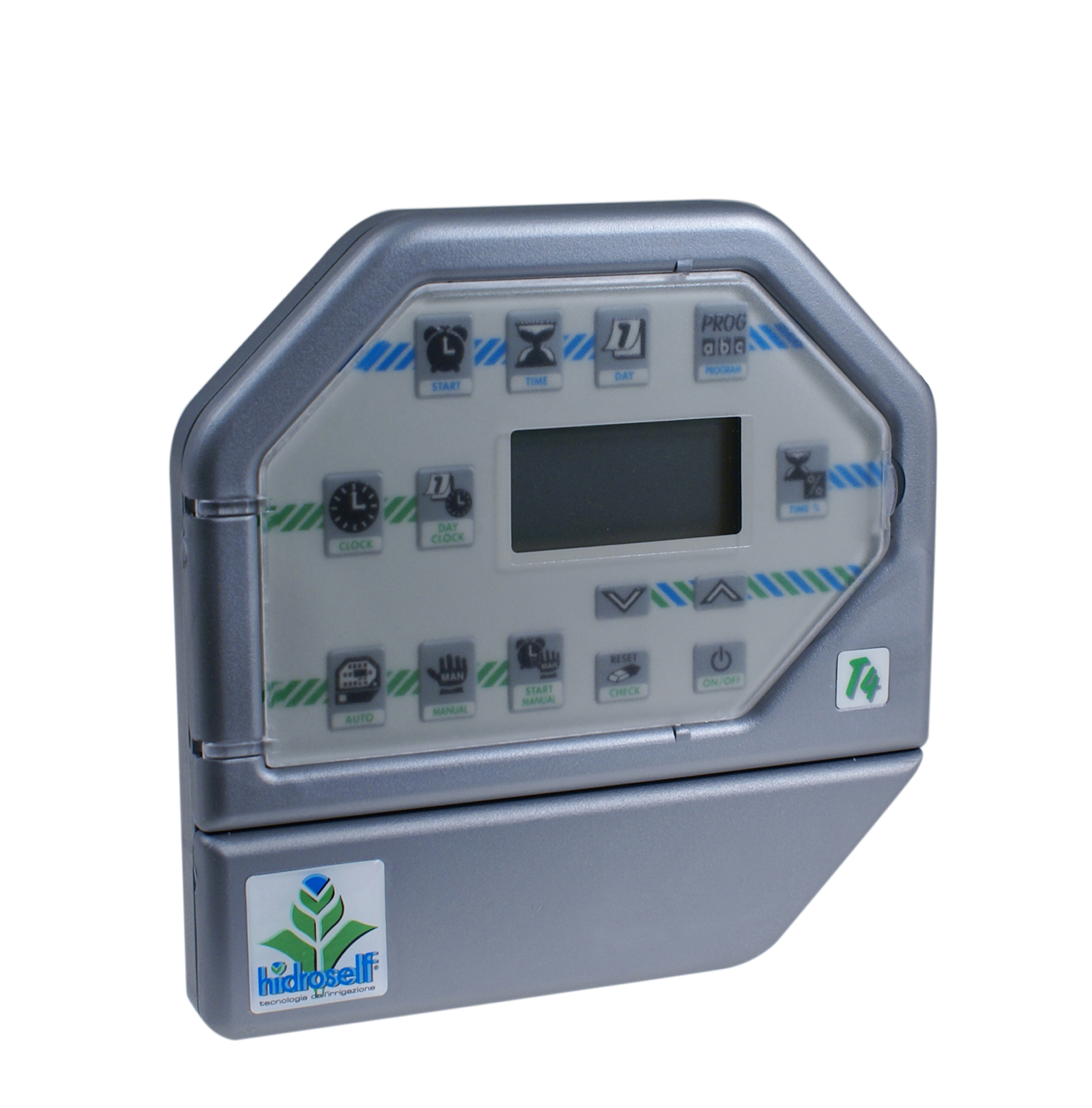 Electronic programmers must instead be powered with the transformer (supplied). Suitable for the latter, not only for the automation of irrigation systems for large gardens, but also for the management of park lighting systems and for the air conditioning of greenhouses. The convenient terminal box housing and fast-entry contacts make electrical connections particularly fast. "
How did the control unit evolve and what are the technological plus for better irrigation and less waste of water?
"Reliability - responds to after sales service - attention to detail, low power consumption and ease of programming distinguish the Hidroself Controls. The Hidroself T Line offers versatile management of 3 independent programs for the simultaneous opening of solenoid valves and relays for various applications such as ignition of garden lights, solenoid valve openings, irrigation command for fountains and fertigation.
Excellent manual and programming customization capabilities: weekly schedule of irrigation days and daily intervals freed up by the program, control up to 36 cycles per day, automatic suspension and reset, seasonal adjustment and more. "
Hidroself systems are equipped with temperature and humidity sensors, as well as an electronic fuse for protecting the programmer that isolates the solenoid valve short-circuit and automatically restores operation.
Depending on the work and water requirements of plants, programmers can be used for small and large gardens by dividing by area.
How do I install it? Do you need a technician's support?
"A technician's intervention is not necessary for installation," explains Hidroself after sales service.
How does programming work and what degree of customization does it have?
"There is a possibility of programming at intervals of 1 to 30 days unleashed by the weekly program. Three independent programs allow the simultaneous opening of solenoid valves and relays for different uses. A manual command activates the irrigation selectable for each solenoid valve or for each program. The programmable irrigation cycle can be suspended from 1 to 12 days with automatic re-ignition selectable for each program. The system also includes an economizer with seasonal irrigation adjustment from 20 to 200% of the programmed time (with only one key increasing or decreasing percentage of all irrigation times). Access to the programming is protected by secret code, while a backup program is also embedded with a backup battery provided for backup in case of blackouts, "the company explains.
"We currently prefer online sales on our Hidroself shop - post-sales support - and the trend is on the rise, primarily thanks to customer service, which can be contacted through the special section of the shop and offering customized solutions in Based on customer needs. "

IRRITEC
For the summer of 2017 Irritec proposes two new Greentimer faucet programmers, for irrigation of terraces and small gardens. "Greentimer BT or Bluetooth, is distinguished by the absence of keyboard and display and can be programmed through a free app," explains Andrea Risso, product manager Irritec.
How did the control unit evolve and what are the technological plus for better irrigation and less waste of water?
"The Greetimer Pro - answers Risso - is characterized by the removable keyboard / display panel that allows you to program it comfortably seated on the couch. The easy and intuitive programming thanks to the large display allows you to choose the days of the week and the time you want to irrigate, up to a maximum opening every 6 hours; Irrigation times can range from a minimum of 1 minute to a maximum of four hours. "
The programmer is suitable for any type of garden.
How do I install it? Do you need a technician's support?
"The goal we have achieved with the implementation of Greetimer BT is to propose a control unit that can be programmed even without reading the instructions," explains Andrea Risso.
Greetimer Pro has two useful options for water saving: the possibility of being used with a rain sensor that interrupts irrigation in the event of bad weather and the rain delay function that allows you to suspend irrigation up to a maximum Of 7 days.
How does programming work and what degree of customization does it have?
"The multilingual app, available for both Android and iOS - adds Risso - allows versatile and complete programming, up to the" mist "function for spraying cycles, with opening and closing times, during which they are followed Periods of opening and closing of the water.
Both products, which can be found at the best Garden Center, hardware stores and specialized retailers, can be easily installed without tools and without the help of a specialized technician. The online sales channel does not count any significant numbers at this time, but we are working to say that in this direction as well. "
KAERCHER
"The Kaercher control units ensure that the irrigation process of the garden is fully automated, leaving the customer more time to relax and enjoy the garden," says Valentino Bruno, product manager home & garden marketing Dpt Kaercher Italia. The company introduces a new WT 4 control unit that has one of its strengths in programming simplicity.
Various irrigation programs for each need programmable through two comfortable regulators.
"The watering can," Bruno continues, "will soon become a romantic and ancient remembrance. Another benefit of using a Kaercher is that it only uses the amount of water it needs, and if it rains, thanks to the rain sensor, the set program is not activated, so irrigation is only possible when it is needed, saving money and "resources.
How did the control unit evolve and what are the technological plus for better irrigation and less waste of water?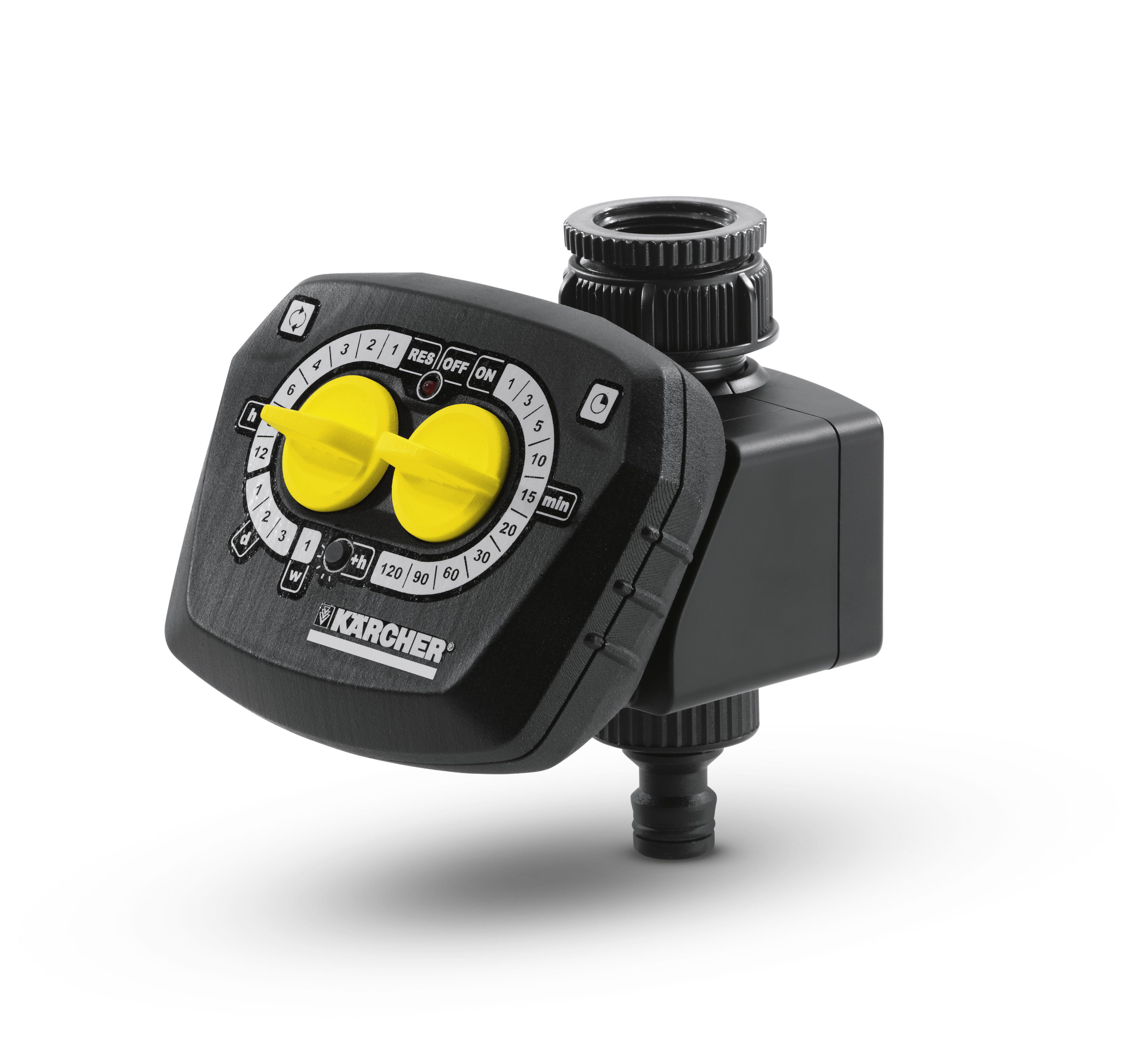 With Kärcher automatic systems you can program when to start irrigation and when to stop it with a timer and fully automatic, easy to set up: save energy, money and protect the environment.
How does programming work and what degree of customization does it have?
The new WT 4 irrigation unit is very easy to use: programming the irrigation mode and time is particularly easy with this product. The WT 4 is equipped with a removable display, large programming knobs and a very clear and intuitive control panel. Thanks to these features, it is easy and fast to use. The maximum irrigation time is 120 minutes. Irrigation operates and stops automatically depending on the programming, so water flows only when needed, with economical and resource saving. Kärcher irrigation units are compatible with all click-click systems. The equipment of this product includes a tap fitting and a pre-filter. The 9-volt battery is not included.

PRATOVERDE
The Toro Evolution programmer is PratoVerde's proposal for the summer of 2017. Up to three sensors can be wirelessly connected to detect the volume of water present in the ground and block irrigation if not needed; Has wireless local area weather station and automatic irrigation time processing based on historical climatic data, all in a simple and user-friendly interface.
How did the control unit evolve and what are the technological plus for better irrigation and less waste of water?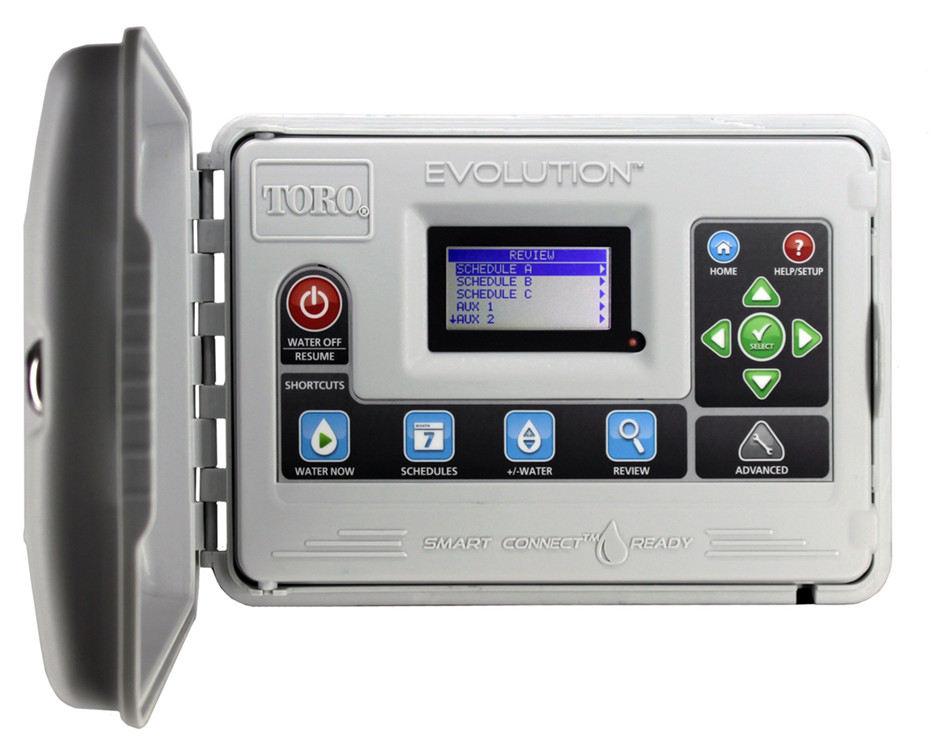 Explains Dario Tasinato, Sales Manager Irrigation PratoVerde: "Thanks to the user friendly interface, the end user is not afraid to act on the control unit. This programmer has functions that allow for significant water saving: the programmable monthly adjustment of the irrigation time: in this way irrigation times will automatically adjust depending on the season; Soil moisture sensors that block irrigation when not needed; Connection to a weather station that allows you to vary the irrigation time according to the meteorological trend; Connection to an adjustable rain sensor that blocks irrigation in case of rainfall events that are sufficient for the soil's water needs. All at an affordable price ".
The Toro Evolution programmer can control up to 2 solenoid valves per sector and carry up to 16 sectors, so we can recommend this garden control unit up to 2000 square meters.
How do I install it? Do you need a technician's support?
"In the version with the plug-in type schuko - answers Dario Tasinato - already wired there is no need for the intervention of an electrician and in the case of basic configuration, without sensors and other connections, there is no need for a technician. In the version with sensors you need a professional gardener. "
How does programming work and what degree of customization does it have?
The control unit provides basic quick start programming in 3 simple steps: irrigation days of the week, irrigation daily start time, irrigation cycle time.
"In advanced programming - adds Tasinato - the control unit allows a profound customization of programming, for example: sprouting irrigation that automatically changes to maintenance irrigation after a set number of days, whether or not to use the pump in Based on the industry, it allows you to define the maximum number of valves that can operate simultaneously, reading solenoid absorption, programming by on-board buttons or free pc and usb software. All in a simple and intuitive way. "
The product is available from Toro authorized dealers and authorized Toro installers who are available to give you any advice.
"A part of authorized Toro retailers - concludes Tasinato - have e-commerce sites for online sales, online sales trends are on the rise. On the site www.pratoverde.it you will find the geolocated list of authorized Toro dealers and installers. "