In early spring to get a healthy, lush lawn is important to choose the right fertilizer depending on grass type, exposure, if any "problems", such as yellowing or moss, and amplitude lawn. GardenTV has interviewed for this MAIN companies in the industry asking them to indicate their products among those most likely to this season and thus providing a broad overview of the products currently available.
CIFO
"For the spring period is particularly indicated for use by Biotron S, a completely natural product, made from organic matter and originating from plants of high quality raw materials, "explains Mariachiara Siciliani, product manager, division Home & Garden Cifo.
Biotron S initially favors engraftment and then the development of a healthy lawn, durable and intensely colored. "In fact - continues Mariachiara Sicilian - greatly improves the soil characteristics in terms of softness, porosity and fertility; It contributes, with a real detoxifying action, the natural degradation of polluting elements; It promotes the absorption of nutrients and promotes the development of new roots and shoots. "
Biotron S can be used on any terrain, and so for any type of grass (but also for ornamental and horticultural plants) and can be used from both private and professional. It is a slow-release product, then gradual release.
COMPOSITION
"It is a natural product consisting of Leonardite, substance extracted from the best natural sources of the European continent, and particularly rich in humic and fulvic acids that positively affect the health of the lawn and any plants ", explains the Sicilians. It is thanks to these valuable substances that Biotron S performs several important functions: it facilitates the absorption of nutrients such as phosphorus, iron, calcium, magnesium, etc); "Active" fertilizers, increasing the nutrient efficiency; It conducts bio-stimulating nature actions, promoting seed germination, and growth and activity of the absorbing roots; positively influences the physico-chemical characteristics of the soil, improving the buffer capacity of the soil; in soils contaminated by xenobiotics and / or potentially phytotoxic heavy metals, it acts as a "detoxifying" avoiding that they can be absorbed by plants.
PERIOD OF APPLICATION AND DOSAGE
Biotron S is administered mainly in spring - when performing tillage prior to transplantation and sowing or at the time of repotting - to help the vegetative growth and is also referred in the fall, to help the plant to overcome the stress of winter and prepare for vegetative growth. Biotron S should be mixed to the soil in a seeding phase of the lawn and with potting soil for repotting of plants, or be scattered directly into the pit transplantation of trees, bushes and shrubs. The dose for lawns is 50-100 g per square meter. The product is available in 5 kg bag.
COMPO
There are two products that the office Compo marketing flag as most suitable at the beginning of the spring season: Compo fertilizer Rasen Floranid Spring / Compo Floranid Prato (the same product but with a different name depending on the package) and Compo Rasentec Spring fertilizer.
Both are suitable for vegetative growth and the rapid greening of the turf
"Compo fertilizer Rasen Floranid Spring / Compo Floranid Prato - explain marketing office Compo - is recommended for ornamental and sports turf medium / high trampling, greens, fairways and recreational parks. Compo Rasentec Spring fertilizer is suitable for ornamental lawns and sports medium / high trampling, recreational lawns ".
COMPOSITION
"Compo Rasen Floranid spring fertilizer / Compo Floranid Prato NPK 05/08/20 (+2 MgO + 17.5 SO3) with boron. Containing Isodur, the slow release nitrogen IBDU (isobutylidene diurea), which guarantees up to 12 weeks of nutrition. Nitrogen promotes vegetative growth and the rapid planting the turf, Phosphorus improves the rooting and the wear resistance, the Potassium increases resistance to adverse environmental conditions and to parasitic diseases, Sulfur improves the absorption of phosphorus and microelements due to its acidifying power, with the microelement Boro difficult to assimilate from the soil.
Compo Rasentec NPK 20-10-10 (+7.5 SO3) with ammoniacal Nitrogen stabilized by the inhibitor of nitrification (3,4 DMPP) that respects the environment by reducing nitrogen losses in the subsoil. The high titer in Nitrogen promotes vegetative growth and the rapid soaking, Phosphorus improves the rooting, Potassium increases resistance to adverse environmental conditions, the Sulfur improves the absorption of phosphorus and trace elements due to its acidifying "power.
Rasen Floranid spring fertilizer / Floranid Prato is a condensed fertilizer slow-release, while Rasentec spring fertilizer is a stabilizing fertilizer with nitrification inhibitor. The user differs depending on the sizes of the packaging: those to be 1.5 kg, 3 kg and 5 kg are ideal for private hobbyist. The sizes of 17.5 kg and 25 kg are more suited to the professional gardener, while the size of 10 kg may be used by both the private and the professional.
PERIOD OF APPLICATION AND DOSAGE
"Compo Rasen Floranid spring fertilizer / Compo Floranid Prato is particularly suitable from February to April. The use is also possible in the months of May, August, September and October. Compo Rasentec spring fertilizer is particularly suitable from February to April. The use is also possible in the months of May, August, September and October, "he explains from Compo marketing.
It should distribute 20 - 30 g / m2 of Compo Rasen Floranid spring fertilizer / Compo Floranid Prato (ca. 2 tablespoons cooking per m2) manually or through the aid of a trolley spreader. Fertilize 1-2 days after ta¬glio possibly with dry grass. Distribute evenly and water thoroughly.
instead Distribute 20 - 30 g / m2 of Compo Rasentec spring fertilizer manually or through a carriage spandicon¬cime. Operating in a manner as uniform as possible so as to ensure consistency of results. Fertilize 1-2 days after cutting, with dry grass, followed by a hearty wetting.
COPYR
By early spring, Copyr recommends, through its responsible H & G Daniele Grisotto, Fortyl lawn relaxation, micro granular fertilizer enriched with bacterial strains selected to promote root growth and improve the absorption of nutrients. "It is particularly suitable - says Grisotto - to promote the germination of the seeds, stimulate the spring vegetative recovery and remedy situations of stress. It is a universal product suitable for all types of turf.
COMPOSITION
It is a fertilizer with a high content of nitrogen, phosphorus with the addition of Sulfur, Zinc and selected bacterial strains. "The high content of nitrogen and phosphorus - says Daniele Grisotto - an important energy reserve that helps both to overcome the coldest months is to stimulate the spring vegetative recovery; the bacteria stimulate root development, accelerate growth, promote the absorption of iron and other trace elements and improve the microbiological activity of the soil. Even the formulation in microgranules of Fortyl Relax Prato helps to increase the effectiveness of the fertilizer, favoring a more homogeneous distribution, multiplying the points of contact with the roots and reducing waste ". Fortyl relaxing lawn Copyr is short acting.
The product is aimed at both the enthusiast to gardening in the first place, but also to the professional to targeted interventions.
PERIOD OF APPLICATION AND DOSAGE
It should be used in spring and autumn. Explain Daniele Grisotto: "Use Fortyl Relax Prato to 1-1.5 kg dose to 100 square meters. In case of smaller surfaces, apply a handful of microgranules per square meter. Repeat every 15 days in spring and autumn, followed by irrigation after each fertilization. " Fortyl lawn relaxation is sold in packs of 1 kg.


GRENA
Inside the Grena range, are two fertilizers suitable for the beginning of spring, says Laura Magagna, marketing manager Quality and Image: Grena Starter (ore body), or Ultra Grena (only organic). The first is a greening, while Grena Ultra is indicated for the time of sowing and against yellowing. Both are suitable for use both green carpets of golf courses, which in private gardens.

COMPOSITION
"Grena Starter - explains Laura Magagna - is composed of 12% total nitrogen, of which 2% organic, phosphorus 5%, 6% potassium, organic matter 31% organic matter of animal origin contenetente amino acids laevorotation the favorite from plants. The presence of 12% nitrogen stimulates the vegetative growth, the presence of amino acids allows gradual assimilation of phosphorus and potassium with a regular cell multiplication and growth of the turf ".
Grena Ultra Micro instead is composed of a 64% of organic matter from organic matter of animal origin with the 37.5% of left-handed amino acids, total organic nitrogen 6%, humic and fulvic acids 10%, CaO 14% naturally contained. "Grena Ultra Micro - continues Laura Magagna - is a product biostimulative high invigorating performance, a treaty lawn with Grena ultra micro will have greater resistance to environmental stresses (drought or excessive rainfall) with long-term benefits in addition to the color tone due to the presence of amino acid phenylalanine color precursor ". The two products are slow-release and can be used both by professional gardeners and private.
PERIOD OF APPLICATION AND DOSAGE
Grena Ultra is indicated from autumn to late spring: a bag of 25 pounds per 250 square meters (600 kg per hectare); while Grena Starter between February-April: a bag of 25 pounds per 300 square meters (500 kg per hectare). The products are sold in confezizoni 10 or 25 kg.
ICL
"Considering that the turf at this time takes the vegetative activity, a great product that we recommend in our fertilization plans is the LandscaperPro mantenance "so suggests Dr. Mario Bianchi, area sales manager ICL Italy Treviso.
"We need - he explains - to support the vegetative activity and the development of the plant during the spring period. The high nitrogen content gives the lawn an excellent initial and long-lasting soaking. It releases nutrients in a 2-3 month period. " The product is ideal for residential ornamental grass-covered surfaces.
COMPOSITION
"It has a 8.5.20 title. Nitrogen (N) is necessary for plants to grow. It is a source of energy essential for the formation of chlorophyll and photosynthesis. The phosphorus (P) is essential for the plant's tissues, for the rooting and tillering while potassium (K) balance the water content and increases the resistance to stress factors ", illustrates Grisotto.
This fertilizer is a CRF (Controlled Release Fertilizers) or controlled release fertilizer in here 40% of the nitrogen is wrapped and is transferred over a period of 3 months.
"ICL - he explains - has different technologies to handle the sale of the elements for plant nutrition. In LandscaperProMantenance we use the technology polys: Urea wrapped by a sulfur layer and a menbrana. Its peculiarity is due to the fact that the transfer is independent of the temperature and avoids peaks in the nitrogen release. This feature has many advantages, such as the reduction of the mowing material or reduction of conditions favorable to the development of fungal diseases.
The main advantages of controlled release products can be summarized as follows: reduced doses; Performance: steady growth and good color; low environmental impact: almost nonexistent leaching; Convenience: fewer applications and less cuts; Safety: no risk of burns; Biomass: riduzione10-15% ".
They are professional products, but nowadays the demanding home, with a passion for plants and the environment, is always looking for products with specific performance it can therefore be used by the latter.
PERIOD OF APPLICATION AND DOSAGE
In the vegetative growth periods, spring and late summer.
"At the beginning of summer and before winter - explains Daniele Grisotto - recommend alternate it with a high content of potassium fertilizers, given their anti-stress action. 35 grams per square meter per application are sufficient for an ornamental grass ". LandscaperPro mantenance is available in packs of 25 and 15 kg for the professional and for the purpose of meeting the market demand, last year we introduced the 5 kg bag.
ILSA
"The Lawn fertilizer and ornamental plants gives a bright green color to the lawn, without risk of yellowing. It nourishes the lawn in a gradual manner and efficient ", so Angelo Cifarelli, the agronomic Ilsa service presents the spring product, suitable for any type of turfgrass, since it acts at the level of the soil and also for ornamental plants.
COMPOSITION
"The fertilizer - explains Cifarelli - has 12% of total organic nitrogen, high amino acid content, and 40% of organic carbon, and then brings to the ground 70% of organic matter. The organic carbon helps to improve the fertility and health of the soil on which it grows the turf, while the organic nitrogen is released in a gradual manner, without deficiencies or excesses, in order to nourish the turf in a continuous manner and efficiently. " With regard to the release, the exclusive matrix of which is formed (Gelatine), it allows Prato and ornamental plants Ilsa to have both a part of nitrogen immediately soluble, and then ready to effect, both a part that acts to slow release. Nitrogen is all available to plants, no leaching losses, so it is a fertilizer that respects the environment. It is also allowed in organic farming, according to the Legislative Decree no. 75/2010.
The quality and the high level of specialization mean that the product is aimed more at professionals. This does not mean, however, that private and hobbyists can also find great benefits from this product.
PERIOD OF APPLICATION AND DOSAGE
"It can be applicatodice Cifarelli - both in the spring and in the autumn. It should be evenly distributed on the ground and the answer you get to see after the first 7-10 days and continue gradually for several months, depending on the ground conditions. The recommended doses are from 4 to 7 kg per 100 m2 in spring phase and from 5 to 10 kg per 100 m2 in autumn phase. Better to do a couple of interventions, at 2-3 months, in both seasons. The higher doses should be used on more trampled carpets and with more sandy soils ". Lawn and ornamental plants are packed in bags of 5 kg.
ITAL-AGRO
EverGreen Maintenance - slow release fertilizer for lawns is the most suitable of Ital-Agro products for the fertilization of lawns in periods of strong growth.
"In the range - adds Lanfranco Barbieri, Marketing Coordinator Italy - are also included with specific action products, in the spring, they respond to different maintenance needs such as seeds, herbs control broadleaf, moss prevention".
EverGreen upkeep is suitable for turf for decoration, high traffic.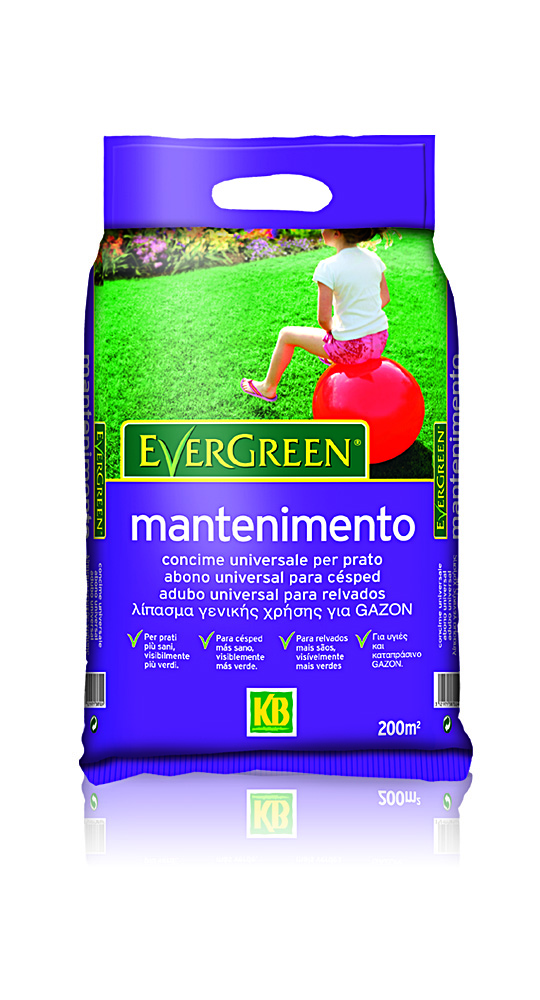 COMPOSITION
EverGreen Maintenance: NPK 08.05.20 + 2 MgO - Nitrogen (N) supports the formation of new tissue and many metabolic activities, Phosphorus (P) - stimulates greater rooting and the issue of new roots, Potassium (K) makes the lawn more drought resistant wear from foot traffic, drought and to pests, magnesium (MgO) essential constituent of chlorophyll, prevents the appearance of yellowing.
"It is a slow-release fertilizer (2-3 months duration) with Nitrogen wrapped with Poly-S technology that releasing the nutrients in a constant and gradual over time determines the harmonious growth of the lawn. Furthermore, the risk of nutrient leaching losses is dramatically reduced for the benefit of the environment. The granulation between 1,8- 4mm ensures easy applicability either by hand or with fertilizer spreaders and the absolute absence of dust, "says Barbieri.
The Poly-S winding considerably increases the degree of safety to the plant even in case of unintended overdoses. This feature, combined with the uniformity of the granules, makes the formulation ideal for both private individuals and professionals.
PERIOD OF APPLICATION AND DOSAGE
The fertilizer is suitable for all periods of strong growth. Typically the spring and late summer. They should be distributed from 25 to 35 g / m2 - both by hand and with the fertilizer spreader. Maintaining EverGreen is available both in 2 Kg packaging 66m2 that from 4 kg per 130 m2.
NEUDORFF (ESCHER)
Within the range Neudorff (Escher) manure as indicated at the beginning of spring is the fertilizer for lawns Azet, NP organic fertilizer (K +) which, thanks to its composition helps the lawn in vegetative growth.
Lorenzo Riva, agronomist Neudorff commercial division, I like this: "The fertilizer for lawns Azet is indicated for all the nutritional requirements of a meadow in its various growing seasons. Thanks to its formulation, contributes immediately and for a long time to the nutritional needs of the turf. Moreover, the presence in its interior of mycorrhizal fungi, strengthens the root system making it even more efficient in the absorption of nutrients. It is suitable for all types of turf ".
COMPOSITION
"The fertilizer for lawns Azet - continues Riva - is a totally organic fertilizer; it is composed of only natural substances allowed in organic farming: dried vinasse extracted without the use of ammonium salts; bone meal; panels. The organic nitrogen content of the fertilizer contributes to the development of plant tissues and is essential for photosynthesis. A deficiency would lead to a lawn with a stunted development, with fabrics that tend to yellow and not very resistant to heat and frost.
Phosphorus is essential for all physiological processes of plants, including grass. It has a key role in root development and, consequently, the efficiency of absorption of nutrients.
Potassium plays a key role in regulating the water balance of plants; a good supply of potassium allows the plants to better resist to adverse weather conditions such as frost and drought.
The good content of organic carbon and humic acids also contributes to the fertility of the soil fertilized with manure Azet for "meadows.
Feature exclusive fertilizer for lawns Azet is its content in mycorrhizal fungi (MyccoVital) that give rise to mutualistic "binding" associations root system of the lawn. In the wild, more than 90% of the plants live in symbiosis with these fungi obtaining numerous advantages; thanks to mycorrhiza, you will get a greater root development of the lawn so that it will be able to absorb more nutrients. More absorbed nutrients translate into a more lush meadow, more resistant to frost and drought, absence of moss. The nutrients supplied by the fertilizer are readily available and, thanks to its granular formulation, they are for a long period (3 months).
"The fertilizer for lawns Azet - says Lorenzo Riva - is suitable for all uses, from the lawn of a private house on the lawn of a sports field. In addition, due to its lack of any risk to people and animals, it can also be used in areas frequented by people (just as gardens or parks) without risk ".
PERIOD OF APPLICATION AND DOSAGE
"The ideal use period - answers Riva - from March to June, at the vegetative growth of grass and its development. In March, it is recommended to use especially in case of situation of "patchy lawns"; April to June is ideal to support the growing recovery of the lawn to provide all the necessary nutrients, thus preventing yellowing and stunted development. "
The fertilizer for lawns Azet can be distributed by hand or by means of appropriate fertilizer. Doses vary depending on the situation: in the case of existing fields is recommended to distribute 50 g / m2 in early March and 50 g / m2 in May. For new lawns is recommended to distribute 100 g / m2 just before or simultaneously with the planting and to distribute 50 g / m2 weeks after 8/10.
Remember that it is important to water the lawn just after fertilization. The fertilizer for lawns Azet is available in 2.5 kg bags in the box and from 6 and 10 kg
VALAGRO
Miriam Pasciuti, Product Manager Garden & Turf Valagro suggests two separate products according to the end user: consumer or semi-professional Actiwin Spring, granular fertilizer Valagro designed to support and enhance the growth of turf medium size for professionals instead Renova, a bio-stimulant suitable throughout the year (February to November).
"Actiwin spring - says Miriam Pasciuti - is suitable for use directly on the turf of any kind, to promote growth, rinfoltirlo and donate to coat a deeper green. Renova instead is the Valagro solution which confers resistance to the plants and turf against abiotic. At the time of application, it stimulates a number of physiological mechanisms such as the vegetative growth and root development following the transplant; photosynthesis; resistance to climatic stress. This allows the healthy development and flourishing of both ornamental plants turfgrass ".
COMPOSITION
Actiwin is a fertilizer NPK 20.5.10 containing urea formaldehyde with iron (FE9 2%). The presence of nitrogen in various forms (ready and slow release) allows to obtain a constant and lasting growth with a guaranteed coverage of 4 months. It has a controlled-release technology, which ensures a balanced release of nutrients in 4 months. The period shown is spring, with a 12-16 weeks of application frequency.
Renova instead is an organo-mineral fertilizer NK 3-0-8 in suspension: Its rich formulation based on algae, containing the amino acid complex and the mix of natural ingredients, it is able, immediately after application, to increase the production of chlorophyll, improve photosynthesis and restore optimal physiology of the plant. This allows plants and lawn to better address the stresses resulting from adverse weather conditions. It is a product of short acting.
PERIOD OF APPLICATION AND DOSAGE
Regarding Actiwin, "the recommended dose is 20-30 g / m2 (4 kg / 200 m2), for flower and ornamental 2-5 g / L of substrate (35-50 g / m2). The product is available in a pack of 4 kg, "says Miriam Pasciuti.
Turning instead to Renova: "For the turf in the preventive phase recommended dose is 0,5 - 1 L / 1000 m2 applied every 14 - 21 days. Post Stress is the recommended dose of 1 1.5 l / 1000 m2 applied every 5-7 days for 3 applications. The product can be used throughout the year from February to November. It is proposed in a 1 liter bottle ".