Quarantine, gardening conquers the media
In the national and local press, the care of greenery finds more and more space
While the Italians are forced to stay at home, to interrupt normal activities, work or leisure, to limit exits to the necessary or urgent reasons, gardening regains ample space.
You want for its therapeutic power, you want because it offers the opportunity to spend a few hours outdoors, in a private garden or on a balcony or terrace, gardening is in fashion.
And to confirm this is the large space that many newspapers and magazines, even non-sector ones, are dedicating to the topic in these days.
GardenTV has collected in the gallery that follows some titles of newspapers and sites that are dealing with greenery "in times of Coronavirus". Visits to GardenTV have also grown, demonstrating that green remains a great passion for Italians, indeed it is even more so.
GAZZETTA DI REGGIO, 30 March 2020
"Gardening brings well-being today more than ever. Try it to believe it", by Martina Riccò
Interview with the agronomist Stefano Pagano who gives some tips to deal with the Coronavirus emergency period by rediscovering the garden as a source of well-being.
Click here to read the article>
THE MESSENGER, 30 March 2020
DIY gardening, the advice of the nurseryman, by Francesca Nunberg
The article collects the advice of a nurseryman dedicated to those who want to try their hand at gardening taking advantage of the free time available.
Click here to read the article>
CORRIERE DELLA SERA, 26 March 2020
Stay indoors and take care of the greenery, the most beautiful garden wins 500 euros, by Eleonora Lanzetti
The mayor of a town in the Pavia area has decided to involve citizens in the care of balconies and gardens to make the whole country flourish through a competition. € 500 up for grabs.
Click here to read the article>
THE REPUBLIC, March 24, 2020
Coronavirus, kids at home studying: with a bouquet of roses you learn faster, than Marta Musso
The article explains how the scent of flowers can help students engaged in lessons and homework to memorize better and more pleasantly.
Click here to read the article>
A boom in gardening and DIY, by the editorial staff
Over half of the Italians are dedicated to these activities during the quarantine days.
Click here to read the article>
QUOTIDIANO.NET, March 15, 2020
Coronavirus, I stay home. The tutorials, from crochet to gardening to biscuits, by Redazione
Initiatives are multiplying, also online, to give advice to those who dedicate their "isolation" time to activities such as gardening.
Click here to read the article>
Coronavirus: the English royals between gardening and TV, by Emily Stefania Coscione
Members of the English Crown must also comply with the new social distancing rules. And among their pastimes there is gardening.
Click here to read the article>
IL PICCOLO, 23 March 2020
There is life in Trieste: "Gardening is a great therapeutic aid, before the present returns to hit you in the chest", by Cesarina Gigni
The garden is a great therapeutic aid, not just a pastime, in this emergency period.
Click here to read the article>
And if to welcome Spring (re) we discovered gardening as a form of mindfulness ?, by Marzia Nicolini
Even a small space is enough to enjoy the benefits of greenery. In this article we highlight its importance and there are useful tips.
Click here to read the article>
Mentre gli italiani sono costretti a rimanere a casa, a interrompere le normali attività, di lavoro o di svago, a limitare le uscite alle ragioni necessarie o urgenti, il giardinaggio si riconquista ampi spazi.
Vuoi per il suo potere terapeutico, vuoi perché offre l'occasione per trascorrere qualche ora all'aperto, in un giardino privato o su un balcone o terrazzo, il giardinaggio va di moda.
E a confermarlo è l'ampio spazio che moltissime testate e riviste, anche non di settore, stanno dedicando all'argomento in questi giorni.
GardenTV ha raccolto nella gallery che segue alcuni titoli di testate e siti che si stanno occupando di verde "in tempi di Coronavirus". Anche le visite a GardenTV sono cresciute, a dimostrazione del fatto che il verde resta una grande passione degli italiani, anzi lo è ancora di più.
GAZZETTA DI REGGIO, 30 marzo 2020
"Il giardinaggio regala benessere oggi più che mai. Provare per credere", di Martina Riccò
Intervista all'agronomo Stefano Pagano che dà alcuni consigli per affrontare il periodo dell'emergenza Coronavirus riscoprendo il giardino come fonte di benessere.
Clicca qui per leggere l'articolo >
IL MESSAGGERO, 30 marzo 2020
Giardinaggio fai-da-te, i consigli del vivaista, di Francesca Nunberg
L'articolo raccoglie i consigli di un vivaista dedicati a coloro che vogliono cimentarsi con il giardinaggio approfittando del tempo libero a disposizione.
Clicca qui per leggere l'articolo >
CORRIERE DELLA SERA, 26 marzo 2020
Resta in casa e cura il verde, il giardino più bello vince 500 euro, di Eleonora Lanzetti
Il sindaco di un comune del pavese ha deciso di coinvolgere i cittadini nella cura di balconi e giardini per far fiorire tutto il paese attraverso un concorso. In palio 500 €.


Clicca qui per leggere l'articolo >
LA REPUBBLICA, 24 marzo 2020
Coronavirus, ragazzi a casa a studiare: con un mazzo di rose si impara più in fretta, di Marta Musso
L'articolo spiega in che modo il profumo dei fiori può aiutare gli studenti impegnati nelle lezioni e nei compiti a casa a memorizzare meglio e in modo più piacevole.

Clicca qui per leggere l'articolo >
L'ADIGE, 18 marzo 2020
Boom del giardinaggio e del bricolage, di Redazione
Oltre la metà degli italiani si dedica a queste attività durante i giorni di quarantena.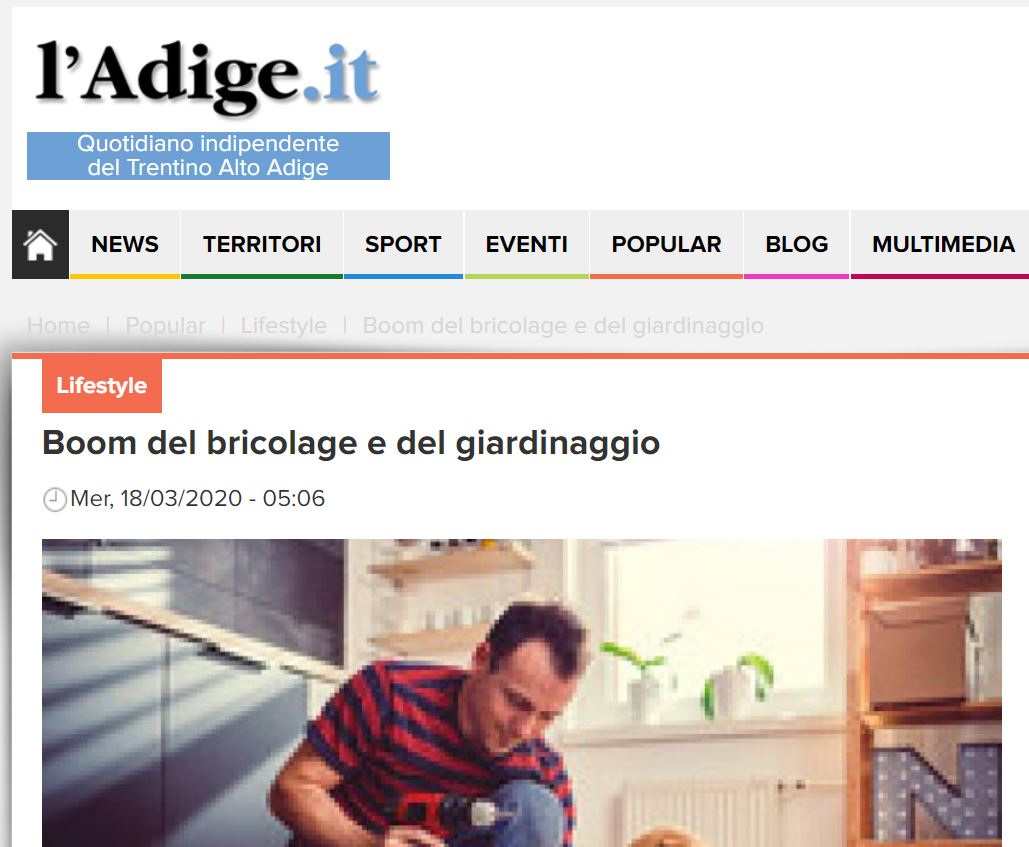 Clicca qui per leggere l'articolo >
QUOTIDIANO.NET, 15 marzo 2020
Coronavirus, io resto a casa. I tutorial, dall'uncinetto al giardinaggio ai biscotti, di Redazione
Si moltiplicano le iniziative, anche online, per dare consigli a chi dedica il proprio tempo di "isolamento" ad attività come il giardinaggio.


Clicca qui per leggere l'articolo >
IO DONNA, 25 marzo 2020
Coronavirus: i royal inglesi tra giardinaggio e tv, di Emily Stefania Coscione
Anche i membri della Corona inglese devono rispettare le nuove regole di "social distancing". E tra i loro passatempi c'è il gardening.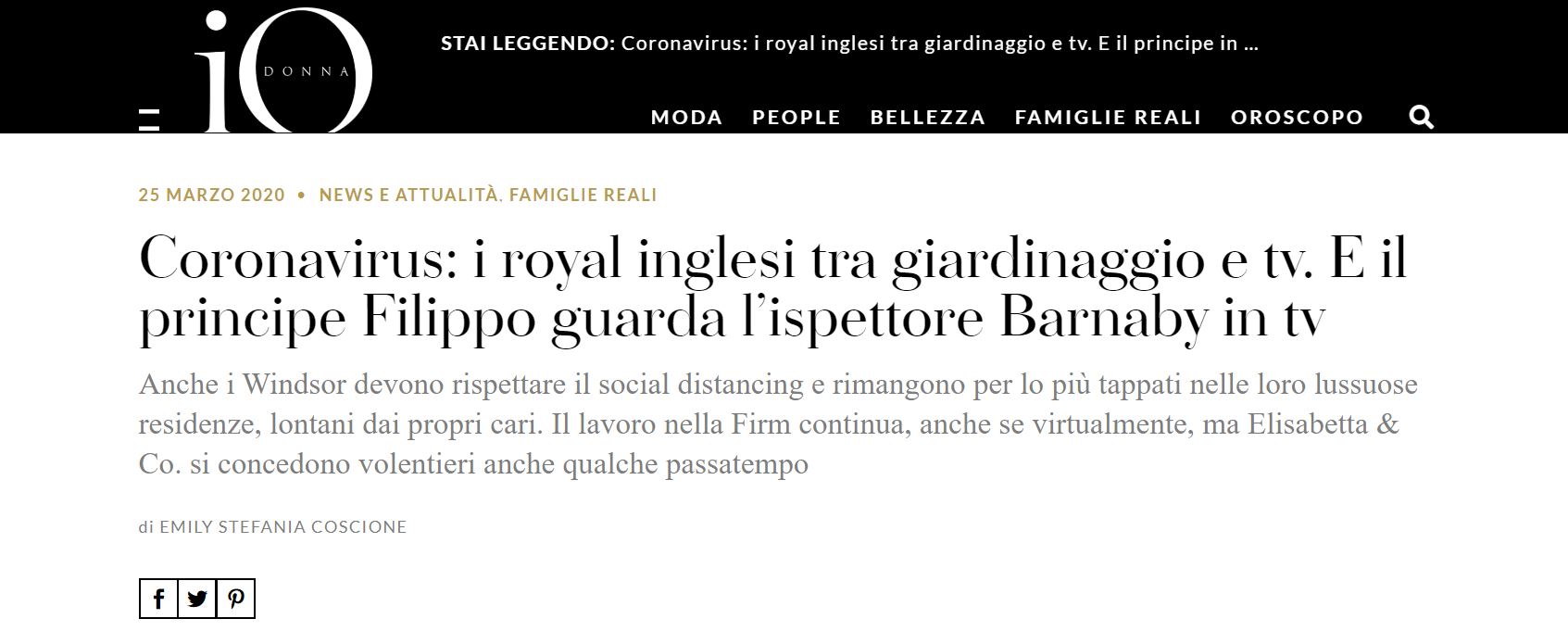 Clicca qui per leggere l'articolo >
IL PICCOLO, 23 marzo 2020
C'è vita a Trieste: "Fare giardinaggio è un grande aiuto terapeutico, prima che il presente torni a colpirti al petto", di Cesarina Gigni
Il giardino è un grande aiuto terapeutico, non solo un passatempo, in questo periodo di emergenza.


Clicca qui per leggere l'articolo >
ELLE, 20 marzo 2020
E se per dare il benvenuto alla Primavera (ri)scoprissimo il giardinaggio come forma di mindfulness?, di Marzia Nicolini
Basta uno spazio anche ristretto per godere dei benefici del verde. In questo articolo se ne sottolinea l'importanza e ci sono utili consigli.


Clicca qui per leggere l'articolo >